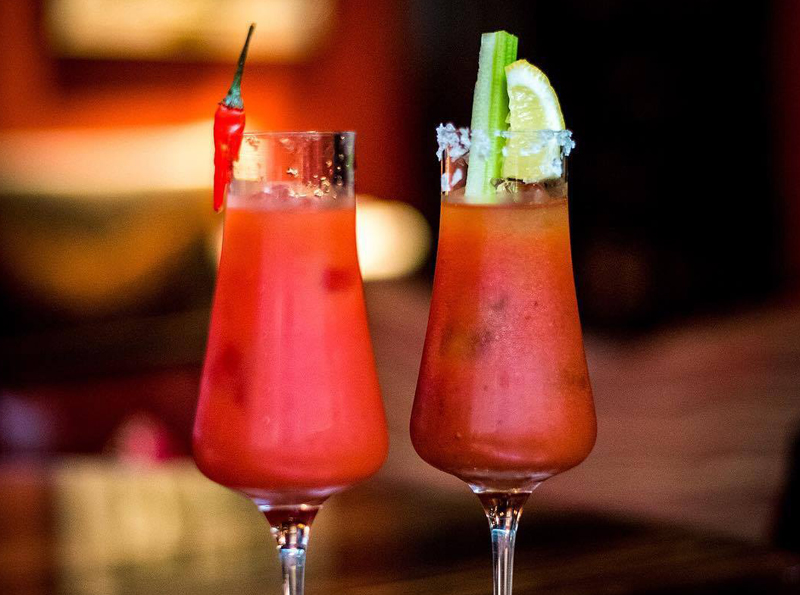 Oh the Bloody Mary—how we love this sassy and spicy concoction of vodka, tomato juice, Tabasco and worcestershire sauce that cures hangovers, makes every brunch exponentially more fun, and comes in all sorts of variations. We've spent many a weekend scouring Singapore for the best restos and bars that do this hair-of-the-dog drink to perfection, so without further ado, this is our definitive list of Singapore's top five Bloody Marys.
Astor Bar at The St. Regis
Although nobody can say for sure exactly when and where the first Bloody Mary was invented, we know that Fernand Petiot contributed to the modern version that we know and love today, and in the 1930s he brought that version to the King Cole Bar at The St. Regis New York, where it quickly became a sensation and their signature drink. Astor Bar at the St. Regis Singapore takes a Southeast Asian twist on this classic cocktail by adding tongue-numbing chilli padi, mature ginger and lemongrass to create the Chilli Padi Mary.
Pair it With: Live jazz. Everything about Astor Bar is downright classy, from the leather armchairs to the Pablo Picasso lithographs to the live jazz pianists and singers who play every night from 6pm to 1am, so you can sip your Chilli Padi Mary in style while listening to some groovy rhythms.
The St. Regis Singapore, 29 Tanglin Rd
Singapore 247911
Tel: +65 6506 6859
Hours: Daily: 12pm – 2am
boCHINche
For a Mary with a Latin American twist, make your way down to Argentinian restaurant BoCHINche and try their Chimichurri Bloody Mary. This saucy creation is made with spice-infused vodka, tomato juice and their secret BoCHINche mix. We're sure they'd tell you what's in that secret mix, but then they just might have to kill you. Whether you're swinging by for cocktails and light bites at the bar, a full-on steak dinner or one of their fab brunches, this kicky drink is sure to wake up your palate.
Pair it With: Pretty much anything from the brunch menu. We love that BoCHINche adds their own unique touch to the typical brunch experience with so many flavourful dishes that match perfectly with the Chimichurri Blood Mary like the Poached Eggs with braised ossobuco, Prawn Ceviche, and Asado Flank Steak cooked over a charcoal grill.
115 Amoy Street #01-02
Tel: +65 6235 4990
Hours: Mon – Thurs: 12pm – 2:30pm, 6pm – 10:30pm, Fri: 12pm – 2:30pm, 6pm – 11pm, Sat: 11am – 3pm, 6pm – 11pm, Sun: 11am – 3pm
db Bistro & Oyster Bar
Previously known as db Bistro Moderne, this chic little spot by chef Daniel Boulud underwent a complete overhaul and is now renowned for their fresh seafood and fun cocktails rather than their indulgent burgers and French fare. The Bloody Mary here stays true to the classic recipe with silky tomato juice, Tabasco and worcestershire, but the garnishes could be anything from the standard celery stalk to a cooked prawn, cherry tomato, jalapeno, olives, a lemon wedge, or all of the above.
What to Pair it With: The Signature Seafood Platter. Sure you can enjoy db's Bloody Marys at their weekend brunch like most folks do, but why not go all out and pair yours with a decadent spread of oysters, Maine lobster, mussels, clams, jumbo prawns, ceviche and tartare?
The Shoppes at Marina Bay Sands, 2 Bayfront Ave #B1-48
Tel: +65 6688 8525
Hours: Sun – Mon: 12pm – 10pm, Tues – Fri: 12pm – 11pm, Sat: 11am – 11pm
Visit db Bistro & Oyster Bar's website
Find db Bistro & Oyster Bar on Facebook
Luke's Oyster Bar & Chop House
Spicy Bloody Marys and stellar fresh seafood and steaks? Yes please. Luke's makes their Bloody Mary with chef Travis Masiero's special house blend, which consists of loads of veggies from the tomato juice and V8 juice, as well as hints of spice and tang from the HP sauce and lemon juice. And of course there are lashings of traditional Tabasco and worcestershire sauce. Enjoy your Mary over a meal in this chic brasserie-style space, or grab a bottle of Bloody Mary mix from their online shop and make your own Luke's-style Mary's at home.
Pair it With: Freshly shucked oysters. There's something so satisfying about shellfish and tomatoes, so much so that Canadians actually use Clamato (clam and tomato juice) in their version of the Mary. But we digress… Luke's has an amazing selection of fresh oysters from the East coasts of the US and Canada, which when paired with the Bloody Mary, they make for the perfect starter.
22 Gemmill Lane
Tel: +65 6221 4468
Hours: Mon – Sat: 12pm – 12am
Visit Luke's Oyster Bar & Chop House's website
Find Luke's Oyster Bar & Chop House on Facebook