Looking for the best restaurants in Turks and Caicos? Well, look no further. Ladies, throw the heals out the window and gents, forget those dress shirts, the island vibes are real. You're going to be eating fresh local seafood, drinking some rum punches and dancing the night away. While most of the places on the island are super casual and laid back, we also found a few restaurants where you can enjoy a real chic ambiance as well.  We explored as much as would could and have come up with a curated list to the best restaurants in Turks and Caicos.
Best Restaurants Turks and Caicos: Great food and great ambiance
Located on Grace Bay Beach, named the best beach in the world, Infiniti Restaurant is a dining experience like no other. Sit back, relax and soak in views of the Atlantic Ocean as you indulge in International cuisine which include dishes like the Wood Fired Local Lobster and Black Cod Miso at Infiniti Restaurant.  While there is no conch on the menu (which is an island must), they have other highlights including a full Raw Bar with delicious and fresh sushi and sashimi.
For a more intimate experience, you have the opportunity of dining right on the beach. Every night, they set up two or three beautifully candlelit tables on the sand, which are perfect for couples, but even a nice group dinner.
UJ Tip: If you feel like dancing, head there on the a Friday night to catch a live DJ and head to the bar after where the party will keep going until late. If not, head in for a pre-dinner drink and soak in views of the stunning sunset.
Grace Bay Club, 1 Grace Bay Circle Rd, TKCA 1ZZ, Turks & Caicos Islands
Follow Grace Bay Club on Instagram
Do you want to transport to the Mediterranean for a few hours? If so, The Beach Club at Rock House is for you. The Rock House is one of the island's newest resorts and the entire property is unlike anything else on the island. The Beach Club is the resorts main restaurant. The menu features mainly Italian seafood options like yellowfin tuna crudo, chili crab linguini, and lemon spaghetti lobster. After a few glasses of wine, we won't blame you if you think you're in Italy.
Rock House, 1 Blue Mountain Road, TKCA 1ZZ, Turks & Caicos Islands
Follow The Rock House on Instagram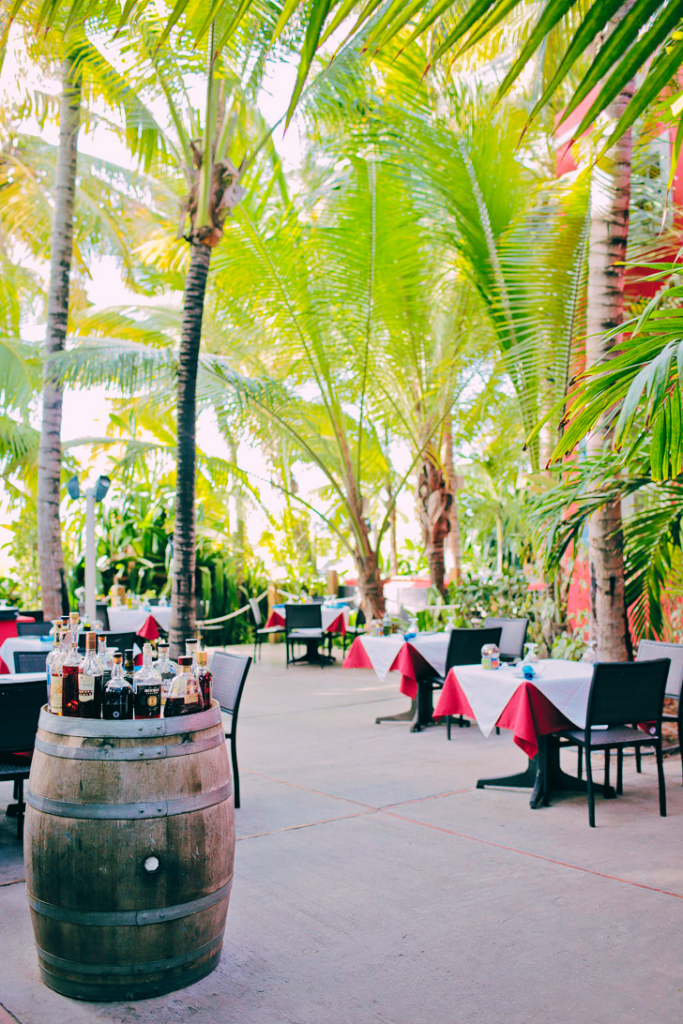 Dine under the palm trees and the star lit sky at Coco Bistro, located on Grace Bay. This is the perfect place to come to if you're looking for great food and a nice ambiance, that's not on the beach. Dishes focus on mainly seafood and highlights include Conch 2 Ways (sweet sour with fresh Dominican pineapple & ceviche martini, scented with lemon) and hot
pepper, West Indian style shrimp curry with coconut rice, banana chutney, garlic flat bread, grilled asparagus, amongst others. Mouth watering yet?
UJ Tip: We highly recommend to book in advance of your visit as it's one of the hardest places to book on the island.
Grace Bay TKCA 1ZZ, Turks & Caicos Islands
Follow Coco Bistro on Instagram
Italian food on your mind? Here's a cute hidden spot in town which offers up a fusion menu of modern Italian with a touch of Caribbean cuisine.  Located in a cottage with a wooden terrace, expect a charming and cozy vibe. Tuck into homemade pastas and homemade breads alongside dishes like esgarot with shallot and garlic and savory herb butter, black tagliolini Pernod flambéed spiced seafood cooked with tomatoes & lime, shrimp, calamari, mussels, clams, scallop, octopus, catch and Homemade Ravioli filled with grouper, zucchini, seafood Provençale and many other dishes. The restaurant offers up dairy free, Gluten Free and Veggie options, so there is plenty for all kinds of eaters.
Governor's Rd. Grace Bay, Providenciales  TKCA 1ZZ, Turks and Caicos Islands
Follow Caicos Cafe in Instagram
If you enjoy hotel dining, check out the Amanyara and Como Shambala Parrot's Bay. Although they are closed for outisde guests at the moment, restrictions may change.
Best Restaurants Turks & Caicos: Casual & Good Eats
If you want a break from seafood and beachside dining, Le Bouchon du Village is a hidden gem in town. Choose from a variety of options from the chalkboard menu which can include oysters, charcuterie, steak, duck and more. If it is not too hot, dine outside on the sidewalk, but you may prefer to be in the air-condition in the dining room. Prices (comparatively) are not as pricey as some other restaurants and the food is good. This is a great place for a casual and relaxed evening, with comforting French food.
104 Regent St, Grace Bay TKCA 1ZZ, Turks and Caicos Islands
Follow Le Bouchon du Village on Instagram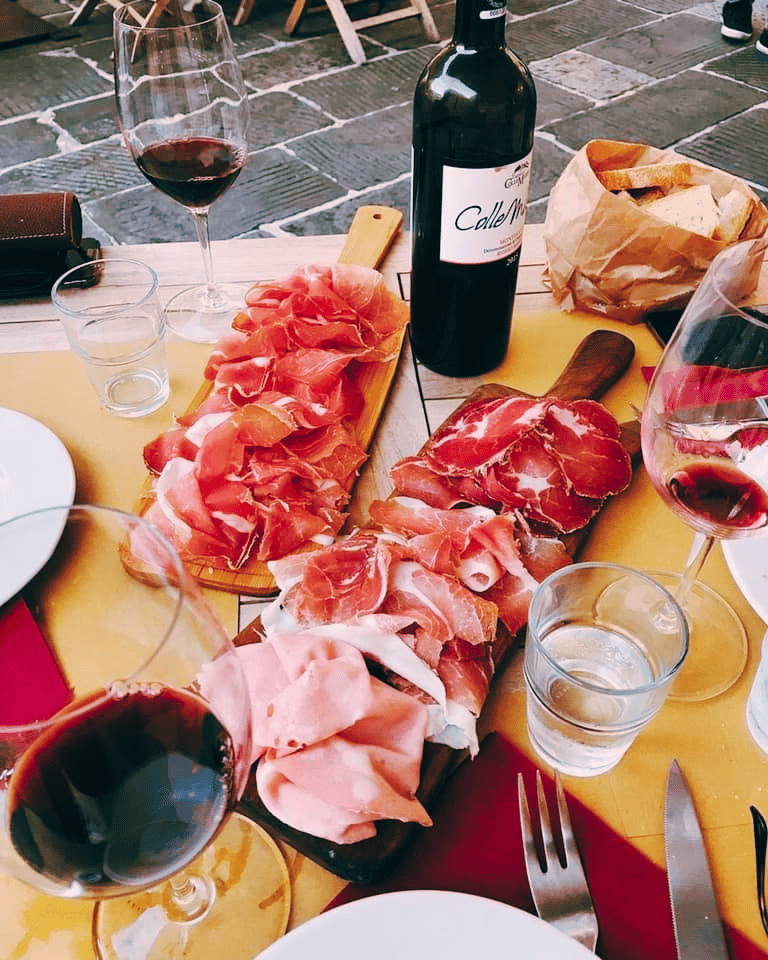 We like this little cafe because it's the perfect place for a pit stop if you're shopping in town. whether for breakfast pre-shopping or lunch to fuel-up. We love that they offer fresh baked croissants, charcuterie, sandwiches, salads, coffee and wines. It's a small place, so don't expect much in terms of service.
QRW9+9V2, Grace Bay TKCA 1ZZ, Turks & Caicos Islands
Located on the grounds of Coco Bistro, this is a solid and approachable spot if you are looking for a casual lunch or early dinner (and a potential alternative if you can't get a table at Coco Bistro.) You order from the 'food truck,' which is not your run of the mill food truck. Expect gourmet food and high quality bites like their Mahi Sandwich, Fried Fish Tacos and Tuna Tar Tar on Asian Crispy Rice & Spicy Mayo. Their menu is subject to change depending on availability and freshness, so you know you're going to get something good to fill your belly. Check out their instagram for weekly specials.
UJ Tip: Get here early for dinner time to prevent any waits. This place can get busy.
Coco Bistro Palm Grove, Grace Bay Road, Providenciales,  Turks & Caicos Islands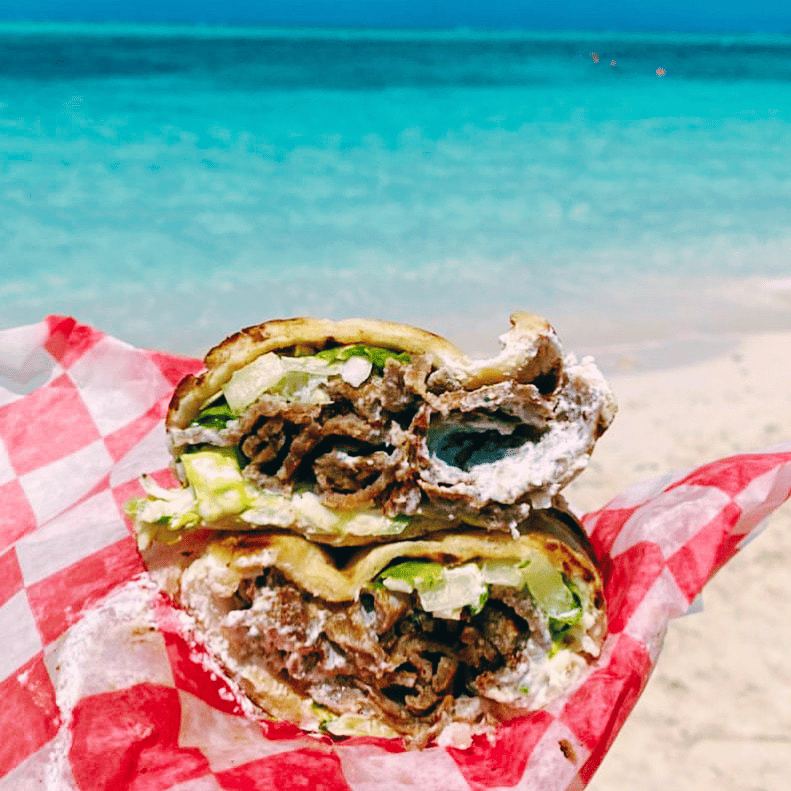 Middle Eastern cuisine your thing? Make a trip to this shack which serves up some great Chicken Shish Kebabs, and Adana Shish Kebab Plates . Go local on your flavors with the Jerk Fish Taco, Caribbean Jerk Fish Salad, Curry Chicken Pita, and end it with and Don Martin Rum Cake. The problem we know you're going to have here is that there are too many good dishes to order, so go with a group if you can.  The icing on the cake is they have a vast beverage menu which include everything from local beer to top shelf liquor AND they just started serving up some pide – Turkish flat bread pizza.
Best Restaurants Turks & Caicos: Local Eats
9. Mr. Grouper
You'll get some great food here, but no views to boot. This is a two story spot in the middle of town with the focus on seafood. The problem is what to order (we recommend any of the grouper, for obvious reasons). Whatever you do, just wash it down with Turks Head Beer. If you want to try a local breakfast, drop in for seafood boils. It's a casual spot and we recommend coming in for a fun Sunday lunch or early dinner.
Lower Bight Rd, The Bight Settlement TKCA 1ZZ, Turks & Caicos Islands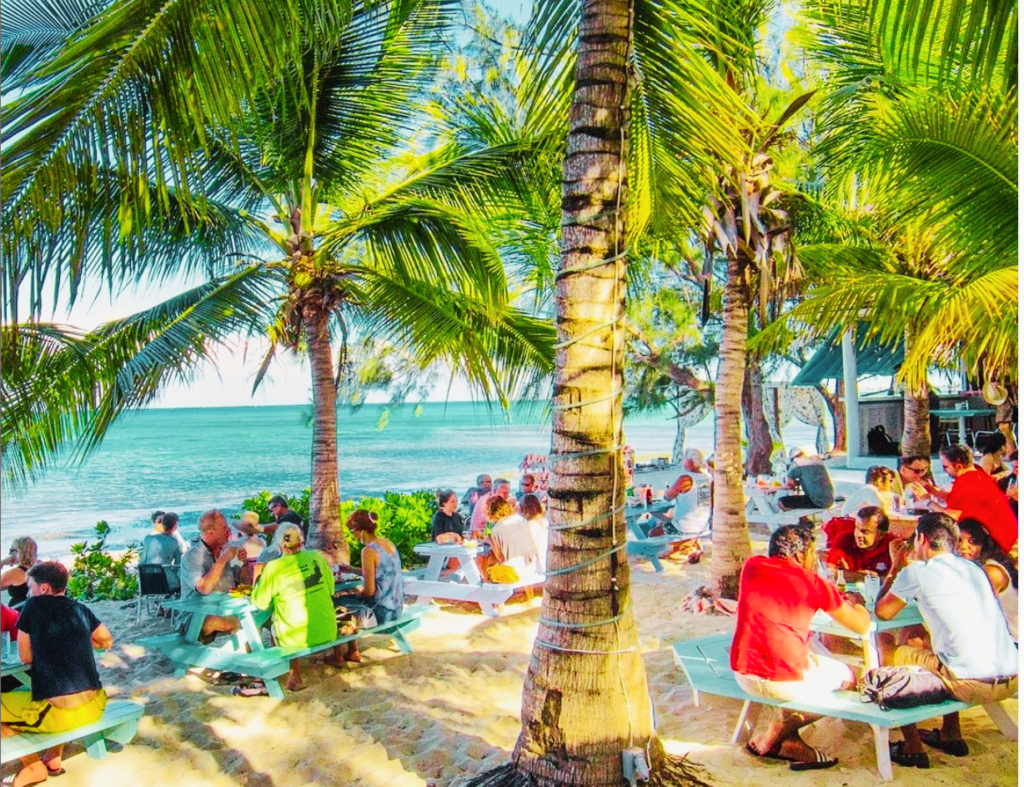 Good vibes, good food, local beer and rum bunch. If that's what you're after, this is where it's at. Don't expect anything clean and fancy, but expect a simple and good meal with local food. Depending on the night, you'll get some music to add to the vibe whether it be a live DJ or a live band. If you're with the family, head in earlier so you can chill along side the beach to keep the kids entertained, but if you're with a friend or a group of friends, head in a little bit later.
You're not going to go wrong with the conch dishes here – they literally scoop them out of the ocean, crack them and cook them. You may even enjoy views of horses going by along the water.  They've got live music on Wednesdays, Saturdays and Sundays and a live DJ on Fridays. The music will most likely get you up and dancing.
Blue Hills Rd, TKCA 1ZZ, Turks & Caicos Islands
Follow da Conch Shack on Instagram
11. Omar's Beach Hut
The highlight of Omar's Beach Hut is that they get their seafood from the fisherman's dock right next door, on Five Cays beach. Choose from burgers, lobsters (their menu is huge), conch, tacos and more.  Their prices vary and are based on the catch's of the day but you know you're going to get fresh and tasty food here. They've got some Jamaican inspired dishes, so if you enjoy jerk. It's the perfect place to gaze out at the stunning water of Turks and Caicos and soak in the sun. You can even opt in for the beachside tables, which has water below it during low tide for a super immersive experience. Wash down your food with the great local beers.
Five Cays TKCA 1ZZ, Turks & Caicos Islands
To sum it up…you are not going to be hungry on this island. They offer a variety of cuisines from Asian, Mediterranean and Caribbean flavors. In general, people are very friendly on the island so make some friends with the locals. they'll let you in on some local knowledge, local eats and the best little nooks to explore on the island. Definitely try and make bookings ahead of time at the restaurants, especially during busy seasons.