Planning a trip to the Caribbean, but not sure where to stay? The hotel you choose can make or break your tropical vacay, so you want to make sure you book a place that will allow you to kick back and relax in comfort and style.  If you're looking for an all-inclusive stay, RIU Hotels & Resorts is always a good idea.  And with stunning properties scattered across the Caribbean, there are plenty of options to choose from. Here we round up our picks for all-inclusive RIU Hotels & Resorts in the Caribbean.
Riu Hotels & Resorts: Aruba
This 24-hour all-inclusive resorts sits right on the sands of Palm Beach. Here you can enjoy the relaxed rhythm of beach life, chill out in your seriously stylish room, and indulge in enticing gourmet meals at your choice of five restaurants .And the best part? They've got entertainment and shows throughout the day and night making it a sweet deal for both couples and families.  There's also a casino with 200 gaming machines and table games. 
Also located on sunny Palm Beach in Aruba, Hotel Riu Palace Antillas is a fab adults-only option (18 years and above) for those who prefer a kid-free environment. This 481-room, 24 hour all inclusive resort has a a buzzing atmosphere. It also has a slew of dining and drinking spots,  water sports, golf course, spa and you can even take a diving test in the swimming pool. Fancy a bit of gambling? They've got a casino for that. Looking for some fun and entertainment? They've got you covered. It's another gem from RIU Hotels that provides whatever you're looking for.
Riu Hotels & Resorts: Bahamas
Hotel Riu Palace Paradise Island—just the name itself screams "vacation". Picture this – an all-inclusive resort, adults-only resort set right on the beach where the only work you'll do is deciding between sunbathing and swimming. It's the perfect spot for unwinding, and with tons of room, a whole array of places to grab a bite including a steakhouse, and a spa that'll have you feeling like a million bucks. It's pure relaxation all the way. This resort is one of the few all-inclusive resorts in the Bahamas.
Riu Hotels & Resorts: Dominican Republic
Now, let's transport ourselves to Arena Gorda Beach in Punta Cana. Picture an exquisite adults-only, all inclusive 24 hours resort serving up intimacy and relaxation on a silver platter. Welcome to Hotel Riu Palace Macao where you'll find chic rooms decked out in all the amenities you could ask for, six restaurants serving up everything from Japanese to Italian and fusion dishes, and four pools where you can soak up the sun.  They also offer up in-room aromatherapy treatments, an upgraded in-room liquor dispenser with top brands, theme parties and a water park. It is currently going under a complete refurbishment, so book now check out the new digs.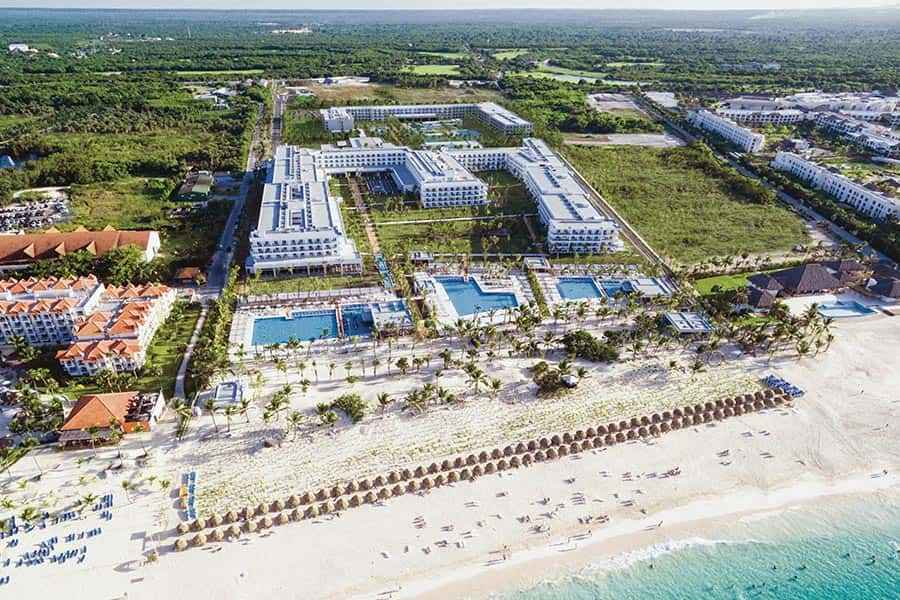 Hotel Riu Republica is another adults-only all inclusive resort set on the beautiful Arena Gorda Beach in Punta Cana. This is a mega-resort with 1,382 rooms. You can spend your days here sunbathing on the beach, cooling off in the pools, indulging in fresh seafood and other bites, and hitting the ocean for some windsurfing, kayaking or snorkeling. After the sun sets, there are beach parties, live music and DJs, circus acts and more. At the end of the day you can retire for some rest and relaxation in your spacious air-conditioned sanctuary.
As you've probably guessed by now, the RIU Hotels group has multiple resorts along Arena Gorda Beach in Punta Cana, and Hotel Riu Palace Punta Cana has pretty much everything you could ask for. This family friendly hotel has 676 rooms. The spacious suites give you plenty of room to stretch out,the restaurants offer an array of delicious eats, and there are multiple swimming pools you can lounge by. And when you feel like some action, they've got a spa to unwind in, and cool activities like tennis and windsurfing to get your adrenaline pumping.  There is also daily entertainment like yoga, live music and pool games that will keep the entire family occupied.
The last one on our Punta Cana list (but certainly not the least) is Hotel Riu Palace Bavaro.  This is a family-friendly all inclusive resort has 610 stylish rooms. It rises up from the beach with brilliant white buildings that house a variety of sleek rooms perfect for families, couples and solo travelers. The family-friendly vibe is great for all ages, and little ones even have a super cool kids' club to play in while parents enjoy the tropical vibes. Added bonuses include all-inclusive restaurants and bars that stay open day and night, a water park, an outdoor theatre with nightly entertainment and a serene spa.
Riu Hotels & Resorts: Jamaica
Nestled in the heart of Negril right on the beachfront, Hotel Riu Palace Tropical Bay is an all-inclusive resorts that gives off dreamy tropical vibes. It's a family-friendly hotel with 416 rooms, and spring break is barred here so if you're looking for a party, this may not be for you. Think stylish suites designed with comfort in mind, a variety of dining spots (including a jerk-put on the beach) and bars to quell your cravings. Want a touch of self-care? The spa's waiting for you. And if you're up for some adventures out on the water, they've got tons of fun activities like snorkeling and kayaking. There is also a casino room with slot machines.
Perched on the beachfront and brimming with life, Hotel RIU Montego Bay is the perfect setting for an unforgettable Jamaican getaway. This adults-only all-inclusive resort (although spring-breakers are not allowed) has a great selection of bright, airy rooms, numerous dining options serving up Caribbean and international cuisine, and a large pool. And, of course, there's a spa for some pampering and a semi-private beach.
Imagine an oasis in Montego Bay, Jamaica, where the atmosphere is chill and the beach views are just breathtaking. Welcome to Hotel Riu Palace, an adults-only, all-inclusive slice of paradise. You'll be pampered in spacious rooms, where ocean views are your daily screensaver. And the dining options? They've got your cravings covered! Plus, two pools (including an infiniti pool), a spa and endless entertainment choices. Your holiday will be a perfect blend of relaxation and fun. 
About Riu Hotels & Resorts
This Spanish hotel chain was founded in 1953 by the Riu family and it has grown to be one of Spain's leading hospitality companies.  They have properties all over the world including the Caribbean, Europe, Africa and the United States. 70% of Riu Hotels & Resorts are all-inclusive.