Best Italian Restaurants in Singapore: Vibes
Located in a historic shophouse on Hong Kong Street, Amò is a cool Italian concept brought to us by Beppe De Vito and the ilLido Group. Grab a seat at the bar for a chilled cocktail, then move to one of the tables facing the open kitchen or head to the outdoor courtyard for a family-style feast of shared plates. We love the crispy calamari with sumac and sundried tomato aioli, the butter roasted spring chicken, and the signature pizza topped with friarielli, pancetta, pumpkin, and smoked mozzarella.
Amò, 33 Hong Kong Street, Singapore 059672. p. +65 6723 7733. Open daily 12pm – 2:30pm, 6:30pm – 10:30pm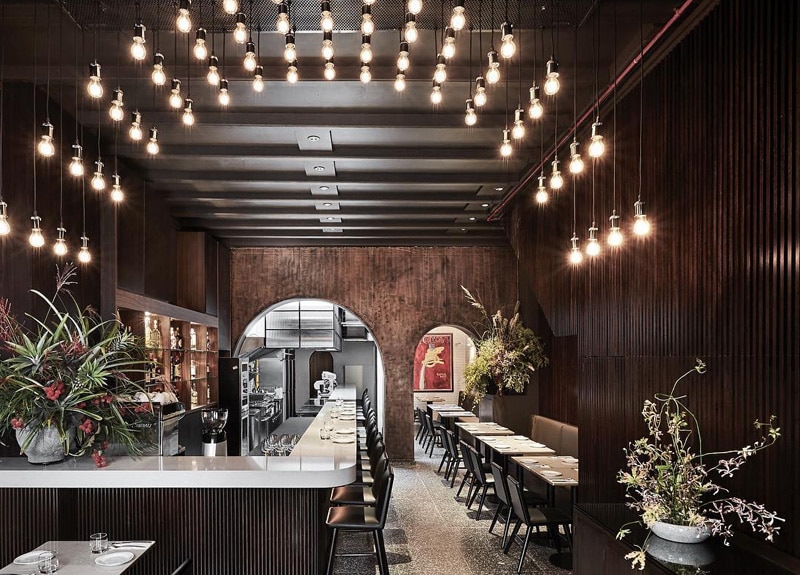 Bar Cicheti is the little sister to Cicheti, but while the original locale is dedicated to Italian small plates, Bar Cicheti is all about handmade pastas made with fresh, seasonal ingredients and artisanal Italian products. Settle into the cosy shophouse done up like a modern trattoria and dig into plates piled with silky spaghetti in a jalapeno pesto, agnolotti with braised beef cheek, or squid ink fusilli with uni and crab. The boutique wines are also a big draw.
Bar Cicheti, 10 Jiak Chuan Road, Singapore 089264. p. +65 6789 9801. Open Tues – Fri 12pm – 2:30pm, 6pm – 10pm, Sat 11am – 3pm, 6pm – 10pm, Sun 11am – 3pm
Tucked away in Kampong Glam, Cicheti is a fun Italian haunt named after the small plates that are served in Venice's wine bars. This is a great place to gather with a group of friends and indulge in light bites like grilled octopus, panzanella, and salumi along with a bottle or three of good wine. And if you want a full-on meal, it also serves more robust dishes like fresh pasta and insanely good pizza cooked in an authentic Italian wood-fired oven.
Cicheti, 52 Kandahar Street, Singapore 198901. p. +65 6292 5012. Open Mon – Fri 12pm – 2:30pm, 6:30pm – 10:30pm, Sat  6pm – 10:30pm
OSO Ristorante has long been a darling of the Singapore dining scene, and now even more so since it moved to its lofty location atop Oasia Hotel Downtown. Situated between the hotel's two pools, the restaurant boasts plenty of quiet corners for intimate dining, as well as a chill bar that's perfect for solo or two-person meals. The menu still features many of the classics we know and love, like the tartufo risotto and lobster fettuccine, as well as contemporary creations like the spicy angel hair pasta with crab meat.
OSO Ristorante, 100 Peck Seah Street, Oasia Hotel Downtown, Level 27, Singapore 079333. p. +65 6327 8378. Open daily 12pm – 2:30pm, 6pm – 12am.
Best Italian Restaurants in Singapore: Fine Dining
Named after Italian-born chef-owner Valentino, this family-run restaurant has long been a favourite of ours because the food and atmosphere are fabulously authentic. We suggest coming with a group because then you can try a variety of tasty dishes like the prosciutto with melon, clams in white wine sauce, and pizzas with gourmet toppings like Parma ham, porcini mushrooms and zesty rucola. Be sure to save room for the sinfully good chocolate Valentino cake.
Ristorante Da Valentino, 200 Turf Club Rd, #01-19, Singapore 287994. p. +65 6462 0555. Open Mon – Fri 12pm – 2:30pm, 6pm – 10:30pm, Sat – Sun 12pm – 3pm, 6pm – 10:30pm
Braci
For spectacular views along with elegant sips and snacks, you can't go wrong with Michelin-starred Braci. Book out the entire 20-seater dining room or the 30-seater rooftop bar and soak up vistas of the Singapore River and bustling Boat Quay below as you dig into Chef Beppe De Vito's modern Italian dishes like beef tartare with smoked marrow, tagliolini with Japanese sea urchin, and Sardinian sea bass roasted over a charcoal grill.
Braci, 52 Boat Quay #05-01 and #06-01, Singapore 049841. p. +65 6866 1933. Open Mon – Sat: 6pm – 10:30pm, Tues – Fri: 12pm – 2pm 
Buona Terra
With a seductive setting in a vintage colonial house, a regularly rotating menu that makes use of the very best seasonal ingredients (think sea urchin, truffles, and caviar), and a sommelier on hand to guide you through a wine list of over 200 labels, Buona Terra is the perfect spot for a decadent date night or a sophisticated lunch. Chef Denis Lucchi hails from Lombardy and puts a modern spin on his traditional Italian dishes, which he serves up in your choice of four, five, or six-course menus.
Buona Terra, 29 Scotts Road, Singapore 228224. p. +65 6733 0209. Open Mon – Fri 12pm – 2:30pm, Mon – Sat 6:30pm – 10:30pm
No Menu
Step inside No Menu and you instantly feel like you're in an Italian home, which is exactly what chef-owner Osvaldo Forlino is going for. Don't be surprised if he or one of his family members greets you at the door and gives you some menu suggestions, which could include the creamy burrata with parma ham or the homemade pappardelle with Kurobuta pork sauce. And just like the ambiance, the food will leave you feeling all warm and happy inside.
No Menu, 21/23 Boon Tat Street, Singapore 069621. p. +65 6224 0091. Open Mon – Fri 11:30am – 2pm, Mon – Sat 6:30pm – 10pm
OTTO Ristorante
If you're looking to impress with a high-end Italian meal – whether it's for a first date or a formal CBD business lunch – OTTO Ristorante is the way to go. This sleek, Michelin-starred spot serves up expertly executed Italian dishes like suckling pig, ossobuco, and handmade pastas that are tossed, topped, or stuffed with premium seasonal ingredients like roasted duck, Boston lobster, and black truffles. The all-Italian wine list is also worth spending some time perusing as they have some excellent vintages on offer.
OTTO Ristorante, 32 Maxwell Road #01-02/03, Maxwell Chambers, Singapore 069115. p. +65 6227 6819. Open Mon – Fri 12pm – 2:30pm, 6:30pm – 10:30pm.
Best Italian Restaurants in Singapore: Casual
An entire restaurant dedicated to cheese, wine, and good times? Bring. It. On. Created by Luca Iannone, D.O.P. is a mozzarella bar and restaurant that showcases amazing Italian products like mozzarella di bufala Campana and Parma ham in the delish cheese and meat platters, pizzas, pasta, and risottos. The atmosphere is relaxed, which makes it easy to settle in for a while. They also have an enticing retail section where you can pick up Italian goods to take home.
D.O.P., 60 Robertson Quay #01-04A, The Quayside, Singapore 238252. p. +65 6908 0830. Open Mon – Fri 5pm – 11pm, Sat, Sun & PH 12pm – 11pm
We rarely head to the East Coast, which is silly because there are so many great spots to get our eat and drink on (and we have a borderline addiction issue with Smokey's). Our latest foray took us to Tanjong Katong Road where we came across a little hole-in-the-wall eatery offering sublime Italian dishes. At first glance Bruno's Pizzeria & Grill may seem pretty unremarkable in terms of decor and ambiance, but we're telling you that these guys are doing some next-level dishes. Don't expect flabby pizzas and ho-hum pastas. At Bruno's it's all about using fresh local and imported ingredients whipped up in imaginative ways.
Bruno's Pizzeria & Grill, 344 Tanjong Katong Road. p. +65 6440 4525. Open daily 12pm – 2:30pm, 6pm – 10:30pm
Capri Trattoria & Pizza
The atmosphere at Capri is rustic and cosy and the food is authentically Italian. The menu has a great mix of pastas, seafood and grilled meats, plus pizzas baked in a brick oven. Start with antipasti like the swordfish carpaccio or Caprese salad with mozzarella and fresh tomatoes, then move on to heartier fare like the branzino (salt-baked sea bass), duck ravioli with pumpkin or the mouthwatering cotoletta alla milanese, a bone-in veal chop, breaded and deep-fried.
Capri Trattoria & Pizza, 3 Binjai Park, Bukit Timah, Singapore 589819. p. +65 6468 4886. Open Tues – Sun 12pm – 2:30pm, 6pm – 10:30pm
Some of our favourite restaurants happen to be located on Bukit Timah, including this spot. They serve up really authentic dishes and they have a great wine menu. They have a cozy ambiance and a private mezzanine which is great for private dinners for up to 40 people. Ingredients are sourced directly from Italy
791 Bukit Timah Road, p. + 65 6469 7508, Hours: Daily: 12pm – 2:30pm and 6pm – 10:30pm
iO Italian Osteria
It may be a little further out of town, but iO Italian Osteria is worth the trek for its wonderfully homey vibe and authentic Italian dishes made entirely from scratch. Pull up a stool at the bar to watch the chefs in action in the open-concept kitchen or settle at one of the whitewashed wooden tables and dig into rustic creations like the Roman style schiacciata flatbread, crispy stuffed and fried olives, and baked risotto bolognese.
iO Italian Osteria, 4 Hillview Rise #02-01, HillV2, Singapore 667979. p. +65 6710 7150. Open daily from 10am – 10pm
La Braceria
Tucked away in Bukit Timah, 40-seater La Braceria has an easy-going ambiance and cosy interior that makes it ideal for a leisurely weekend lunch or a relaxed date early in the week. Their menu is pretty comprehensive with plates to suit all palates including the gorgeous burrata cheese with Parma ham and cherry tomatoes, Neapolitan-style pizzas with simple, yet elegant toppings, and decadent grills like the pan-seared tenderloin with foie gras and fresh black truffles.
La Braceria, 5 Greendale Avenue, Singapore 289501. p. +65 6465 5918. Open daily 12:30pm – 2:30pm, 6:30pm – 10:30pm
Limoncello
Limoncello is one of our favourite spots to dine at the bar because the roomy L-shaped bar sits just steps from their wooden patio overlooking the Singapore River. Even better, chef-owner Fabio Iannone has created a divine menu that draws inspiration from the Amalfi Coast, so you'll find tons of great seafood dishes like clams steamed in white wine, and pan-fried snapper in lemon butter. Not a fan of fish? It also has stellar salads, thin-crust pizzas, and steaks.
Limoncello, 95 Robertson Quay #01-19/20, Rivergate Condominium, Singapore 238256. p. +65 6634 5117. Open Tues – Sun 12pm – 2:30pm, daily 6pm – 12:30pm
Ristorante Pietrasanta
Ristorante Pietrasanta's chef-owner brothers, Giuseppe and Loris, have brought a little piece of their Italian hometown of Pietrasanta to Singapore, and Italians and Italian food lovers couldn't be happier. Everything about Ristorante Pietrasanta is welcoming from the peaceful location on a leafy lane to the rustic wood interiors, the affable and accommodating service, and the comforting Tuscan-style dishes that don't skimp on portion control nor flavour.
Ristorante Pietrasanta, 5B Portsdown Road #01-03, Singapore 139311. p. +65 6479 9521. Open Mon – Fri 11:45am – 2:30pm, 5:45pm – 10:30pm, Sat – Sun 11:45am – 2:45pm, 5:45pm – 10:30pm
Trattoria Amanda
If you're craving Italian in the CBD, you can't go wrong with Trattoria Amanda. The space has an intimate family-run feel, the staff go out of their way to give you a warm welcome, and the menu is made up of rustic Italian comfort food dishes. Defo try the tonnarelli with squid ink sauce and the Parma rucola pizza. They also do great set lunches during the week that include antipasti, a main and a dessert for just $28++, and have happy hours between 5pm and 8pm with specials on aperitifs.
Trattoria Amanda, 14 Stanley Street, Singapore 068733. p. +65 6222 5808. Open Mon – Sat 11:30am – 3pm, 5:30pm – 12am
Trattoria L'Operetta
Trattoria L'Operetta ticks all the right boxes for delicious Italian comfort food in a casual, relaxed setting. The servers are friendly and attentive, and the food is fresh, honest and flavourful. Must-tries include the smoked duck salad with a zippy orange honey dressing, the spaghetti with sea urchin tossed with extra virgin olive oil and garlic, and the grilled lamb rack cutlet in a light, slightly spice wine sauce.
Trattoria L'Operetta, 244 Tanjong Katong Rd, Singapore 437032. p. +65 6440 9322. Open Mon – Fri 5:30pm – 10pm, Sat – Sun & PH 11:30am – 2:30pm, 5:30pm – 10pm
So there you have it – our list of the best Italian restaurants in Singapore. Did we miss any? Let us know if the comments.