It's no secret that The Shoppes at Marina Bay Sands is one of Singapore's greatest foodie destinations. After all, there's really nowhere else on the island where you can find as many varieties of cuisines and celebrity chef restaurants all in one spot. We're always checking in for deets about set lunch deals, happy hour specials, and decadent dinners, and right now there are tons of exciting culinary happenings that you don't want to miss out on. We recently checked out some of their dining destinations and put together a list for you of our picks as well as some epic happy hour deals and set lunch offers at some of our favourite spots at The Shoppes at Marina Bay Sands for Indian, Chinese, Singaporean, French, and Japanese cuisine.
JustIN Flavours of Asia
Brought to us by celebrated Singaporean celebrity chef Justin Quek, JustIN is an all-day dining spot that offers elevated takes on classic local dishes. We recently experienced a fantastic spread at JustIN and it was both nostalgic and fresh and exciting. Your meal could include tasty bites like the Foie Gras Xiao Long Bao, Sea Urchin Har Gow, and Signature Prawn Noodles, and finish with the Salted Gula Java Ice Cream. Be sure to wash it down with a refreshing Lychee Lemongrass Fizz.
UJ Tip: There are light shows at 8pm and 9pm, so a good time to be dining outdoors on the promenade overlooking Marina Bay.
Set menus: Business Luncheon $24++ for two courses, $30++ for three courses, Cafe Gourmand Set $12++
JustIN Flavours of Asia, 2 Bayfront Avenue, Bay Level, L1-83, The Shoppes at Marina Bay Sands, Singapore 018972. p. +65 6688 7722. Open Mon – Thurs 12pm -11pm, Fri 12pm -12am, Sat 11am -12am, Sun 11am -11pm
Punjab Grill
Experience the robust flavours of Punjabi cuisine in a chic setting at Punjab Grill. We love that they have just as many vegetarian dishes as meat dishes, making this a great place to visit with diners who have different tastes and diets. The set lunches are particularly good value with multiple courses including Saag Paneer, Lamb Kofta Truffle Kebab, and Fish of the Day grilled in a tandoori oven. They also have a special Impossible Meat menu for a protein-packed, plant-based spread. If you are making a booking for a group, request for the private dining area, where you can get front row seats to see the chefs in action at the stunningly designed hand-beaten copper Tandoors.
UJ Tip: Whatever you do, order the Butter Chicken. It will melt in your mouth (pictured below)
Set menus: Weekday Power Lunch $50++. Executive Set Lunch $70++. Impossible Meat menu $75++. Royal 10-course tasting menu $190++.
Punjab Grill, 2 Bayfront Avenue, Galleria Level, B1-01A, The Shoppes at Marina Bay Sands, Singapore 018972. p. +65 6688 7395. Open daily 11:30am – 3:30pm, 6:30pm – 11pm
Blossom
Blossom takes traditional Cantonese and Sichuan dishes and puts a modern spin on them. Expect unique decadent dim sum offerings like the Crispy Swan Puff with Cod Fish and Cream Sauce and our favourite, the Deep-Fried Golden Pumpkin Cake Stuffed with Cheese. There are heartier plates you can share like the Signature Smoked Duck which is unlike anything we've experienced before, from presentation to taste. Come between 2pm and 5pm and you can also grab 1-for-1 Tiger draft beers for just $13++. They've recently been awarded a number of accolades, including the winner in Chinese Cuisine by the World Luxury Restaurant Awards 2019.
UJ Tip: Book in a reservation on the weekend for a group of friends. There are plenty of items you will want to try on the menu, so the more people the merrier.
Set menus: Dim Sum High Tea Set $38.80++. Vegetarian Set Lunch $58++. Set Menus range from $88++ per person to $1388++ for 10 people.
Blossom, 2 Bayfront Avenue, Lobby Hotel Tower 2, Marina Bay Sands, Singapore 018972. p. +65 6688 7799. Open Mon – Fri 8am – 11am, 11:30am – 5pm, 6pm – 11pm, Sat, Sun & PH 8am – 5pm, 6pm – 11pm
Angelina
Founded in 1903 by Austrian confectioner Antoine Rumpelmayer and named in honour of his daughter-in-law, Angelina tearooms have been the favourite meeting place of Parisian gourmets for over a century. Located in the middle of The Shoppes at Marina Bay Sands, it is the perfect spot to break from shopping or a hectic work day and indulge a bit. Sit back and relax with a pot of Mont Blanc tea and exquisite French pastries. Signature sweet treats include the Paris-New York with chou pastry, pecan praline light cream, and a pecan praline heart and the Opera cake with an almond chocolate biscuit soaked in coffee, a crunchy praline biscuit, and coffee and milk chocolate mousse.
UJ Tip:  Their hot chocolate is world famous for a reason. Don't miss out!
Set menus: Afternoon Tea Set (2:30pm – 6:30pm) $35++. Set Lunch $29++ including a starter, main and coffee or tea.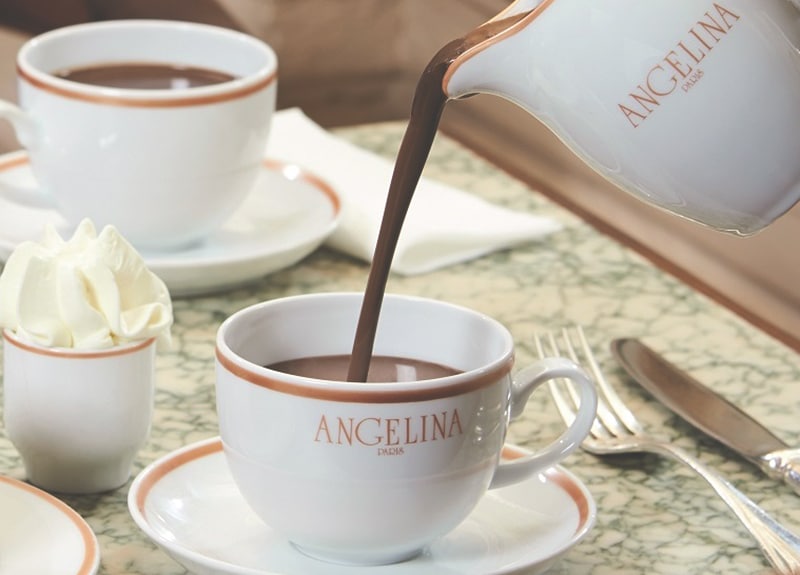 Angelina, 2 Bayfront Avenue, Canal Level, B2-89/89A, The Shoppes at Marina Bay Sands, Singapore 018972. p. +65 6688 7218. Open Sun – Thurs 10:30am – 11pm, Fri, Sat & eve of PH 10:30am – 11:30pm
Sen of Japan
Sample sublime Japanese eats while gazing out at the Singapore skyline at Sen of Japan. They recently went under a renovation and a menu revamp, which will be relaunching soon. Enjoy some of their new dishes like the Mala Soft Shell Crab Roll and Mekajiki Swordfish Steak with Sweet Potato Puree amongst sleek and minimalistic settings. If you're a fan of beef, their Japanese A5 Omi Wagyu Striploin Steak is the highest quality cut of Japan's oldest brand of wagyu, richly marbled meat with unique natural sweetness and grilled to juicy perfection.
UJ Tip: Drop in for happy hour from Monday to Thursday between 5pm and 9pm. Specials start at $9++ for select draft beers, wine, and sake. Request a table that overlooks the promenade to enjoy scenic views.
Set menus: Lunch Sets from $19.90++
Sen of Japan, 2 Bayfront Avenue, Bay Level, L1-86, The Shoppes at Marina Bay Sands, Singapore 018972. p. +65 6688 7426. Open daily 11:30am – 11pm