Where do you go when you're craving really good Chinese food in Singapore? Min Jiang has been one of our go-to spots for years because their food is always tasty and comforting. We've always loved the location at Goodwood Park for its classy decor and comfortable vibes, and now they've recently moved their second location from One-North to Dempsey Hill, so of course we had to check it out. After all, how can you go wrong with delicious dim sum and roast meats in a lovely leafy setting?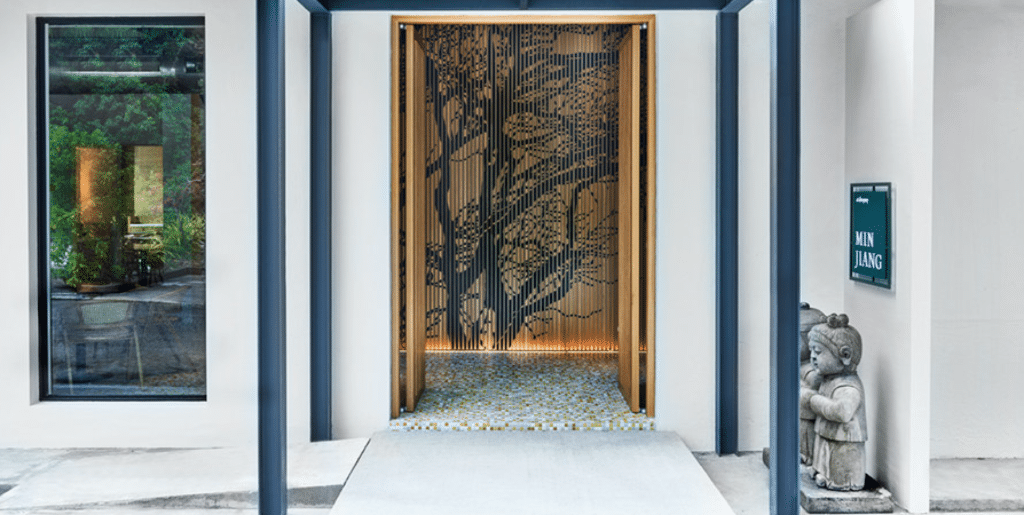 Our experience:
We visited Min Jiang at Dempsey Hill on a Saturday afternoon, and it was a great time to go because the bright, airy space was lit up with beautiful natural light that filtered in through the huge windows overlooking lush greenery. Inside the decor is minimalist and modern with lots of wood, rattan and green and gold accents, plus marble countertops and Asian touches like orchids and stone statues to amp up the elegance. 
If you're in a big group like we were, they'll join together a few big round tables to create one gigantic dining space, which is great for elbow room and passing around a ton of dishes, but makes it a bit hard to have conversations with anyone besides the people you're sitting next to. If you prefer to sit outside, they also have an al fresco dining area cooled by fans.
We were happy to see that the menu has many of the same classic Chinese dishes that the original is famous for like the famous Beijing duck, as well as some interesting updated dishes. Take for example the pan-fried pork gyoza that come with vials of vinegar that you squeeze into the dumpling before popping it in your mouth. There are also quite a few vegetarian options like the crispy mock Peking duck served with pancakes and sautéed tofu with black pepper sauce.
About:
Spread out over 5,000 square feet, the new Min Jiang at Dempsey Hill is much larger than the previous location at One-North. You can opt to sit in the roomy dining room, on the timber deck for al fresco dining or in one of the three private dining rooms. There's also a cosy bar for pre or post-dinner cocktails or those times when you're dining solo and just want some light bites and bevvies.
UJ Tips:
Definitely go with at least four people or more so you can order a wide range of dishes to get the full experience. We're sure the space is beautiful at night, but dining in the day gives you the opportunity to soak up all the natural surroundings and lovely light. Plus, the lunchtime dim sum menu has tons of delish offerings that you can't get during dinner time.
Min Jiang at Dempsey, 7A & 7B Dempsey Road, Singapore 249684. p. +65 6774 0122. Open daily 11:30am – 2:30pm, 6:30pm – 10:30pm