When it comes to dining out in Singapore, there are three things we look for in a restaurant before giving it the Urban Journey seal of approval. Firstly, top notch food. Secondly, exceptional service. And finally, a buzzy atmosphere and ambiance that makes us want to stay all night! So for the past few months we've been seeking out spots that are awesome places to eat with friends and that are even suitable when you're flying solo and want a good crowd to chill with. Here're are our top picks for buzzy restaurants with great vibes. (These restaurants are not ranked in any particular order).
1. Mott32
The 149-seater Singapore has taken over the now defunct Nostra Cucina at Marina Bay Sands. Walk into stylish interiors and a beautiful bar, and you will see that you're in for a treat. The restaurant introduces exclusive dishes, such as the Signature Crispy Sugar Coated Peking Duck Bun, Crispy Prawns with Salty Egg Yolk and Oatmeal, and one of Singapore's most well-known dishes, the Wok-Fried Live Whole Crab in Black Pepper Singapore Style.
Mott 32, B1-42/43/44, Galleria Level, The Shoppes at Marina Bay Sands
2. KOMA
As soon as you begin the walk down KOMA's 20-metre passageway lined with orange arches like a Japanese shrine, you know you're in for a different kind of dining experience. Inside the dimly lit lounge a huge Japanese bell adorned with 20 faces hangs over the sleek bar and long bench seating wraps around intimate booths. The menu features imaginative Japanese eats like truffle unagi maki, avocado tempura, and wagyu fried rice and they often have a DJ spinning some great beats throughout the night.
2 Bayfront Ave,  Marina Bay Sands #B1-67, Singapore 018972. p. +65 6688 8690. Open Sun – Thurs 5pm – 12am, Fri – Sat 5pm – 2am
3. Bakalaki
Nestled within too-cool-for-school Tiong Bahru, Bakalaki is our current favourite haunt for excellent Greek food and a guaranteed great night out. The staff here are the epitome of hospitality; service is relaxed but efficient and complimentary tasting desserts and ouzo nightcaps are the norm. We'd feel comfortable dining here solo or with a large group for a celebration; anything goes. And the menu is filled with generous sharing plates channeling flavours of the sun. Tick. Tick. Tick. Go there.
Bakalaki, 3 Seng Poh Rd Singapore 168891 Seng Poh Rd, 168891, t. 6836 3688. Open Mon – Thurs: 6pm – 10pm, Fri – Sun: 12pm – 2.30pm and 6pm – 10pm
4. Bar Cicheti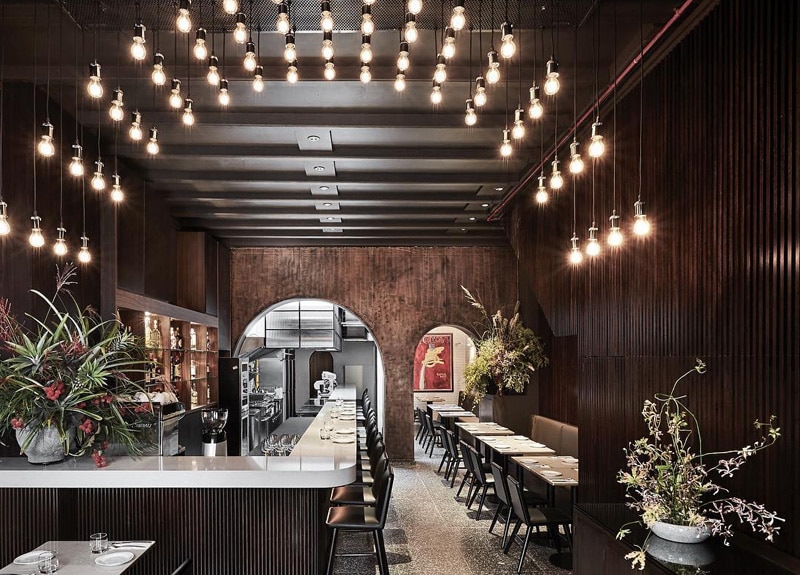 Fans of Cicheti will love their sister operation, Bar Cicheti. This sleek little spot is done up in lots of dark wood and features rows of intimate tables and a long marble bar where you can dine solo or with a friend or two. The focus here is on fresh, handmade pastas with innovative sauces and natural, biodynamic wines. Start with a glass of bubbles or a bright red, then tuck into plates like the beetroot pasta dumplings with sweet potato and pumpkin or the classic spaghetti vongole with clams.
Bar Cicheti, 10 Jiak Chuan Road, Singapore 089264. p. +65 6789 9801. Open Tues – Fri 12pm – 2:30pm, 6pm – 10pm, Sat 11am – 3pm, 6pm – 10pm, Sun 11am – 3pm
This hot spot on Amoy Street has been open for a little bit but we finally made our way there and we are sure glad we did. We ended up checking it out for a drink one Friday night and were pleasantly surprosed at the ambiance and thought to give it a go for dinner. We made a reservation and went in a few Friday's later. The restaurant was buzzy, there was music in the background and the back of the restaurant had a great skylight which added a warmth to the ambiance. There's a variety of food on offer and what we ate was really tasty. We'd go back and reorder the Weird Taste Chicken, Crispy Gyoza with Truffle Soy Vinaigrette and the Salmon 2 Ways.
Birds of a Feather, 115 Amoy Street, 069935, t. 6221 7449. Open Mon: 11am – 10pm, Tues – Wed: 10am – 11pm, Thurs – Sat: 10am – 12am and Sun: 10am – 10pm
Firstly, the pizza here is ridiculously good (we're talking best pizza in Singapore, possibly even the world, kinda good). Secondly service is second to none; the front of house team are slick and nothing is too much trouble. And finally, the atmosphere here is always buzzing. Whatever day of the week you visit expect a full house with a convival hum of chatter (interspersed with declarations of "OMG, you have to try this!") filling the air. Must-orders include the Chicago-style artichoke and spinach dip, the J-dog pizza, and the mother of all carrot cakes for dessert.
Blue Label Pizza, 2 Locations:
28 Ann Siang Road, Singapore 069708. p. +65 9821 9362. Open Mon – Fri 12pm – 2pm, Mon – Sat 6pm – late.
333A Orchard Rd, #03-02 Mandarin Gallery, Singapore 238897. Open Mon – Sun, 11.30am – 10pm.

7. BoCHINche
Offering South American vibes and cuisine, Bochinche is a sweet spot to check out when you're looking for something a little bit different than your average after-work hangout. We like sitting at the long marble-topped bar and ordering up glasses of Argentinian vino along with starters like the Chorizo Croquettes or the Empanadas packed with spinach, goat cheese and pine nuts. If you're really hungry, try one of their Argentinian steaks grilled over charcoal and served with traditional South American sauces.
Bochinche, 115 Amoy Street #01-02, 069935, t. 6235 4990. Open Mon – Thurs: 12pm – 2:30pm, 6pm – 10:30pm, Fri: 12pm – 2:30pm, 6pm – 11pm, Sat: 11am – 3pm, 6pm – 11pm, Sun: 11am – 3pm
8. Burnt Ends
If you're craving some 'cue, Burnt Ends is the place to go for smoky meats and seafood chargrilled over custom-built grills. Part of the fun here is watching the chefs go to work in the open kitchen grilling and plating modern Australian creations like the flatiron steak with burnt onion and bone marrow, smoked crab croquettes, and the sanger burger with pulled pork, coleslaw, and melty cheese. After just one bite it will be easy to see why they restaurant has earned a Michelin star.
Burnt Ends, 20 Teck Lim Road, 088391, t. 6224 3933. Open Fri – Sat 11:45am – 2pm, Tues – Sat 6pm – 12am
9. Butcher Boy
Chef Andrew Walsh just opened up his second venture down the road from his first restaurant, Cure. They just officially opened for business. If you're looking for a new hot spot, this is definitely it. Make your reservations in advance. This place has got vibe and when we see Chef Andy warmly welcoming guests, it feels like home. They've also got a Sunday Roast which they've started, and we can't wait to check that out.
Butcher Boy, 31 Keong Saik Road, 089138, t. 6221 6833. Open Sat – Tues: 5pm – 12am, Weds – Fri: 12pm – 3pm and 5pm – 12am
10. Caffe Fernet
Another fab offering from the Jigger & Pony group, Caffe Fernet is housed in a beautiful glass-fronted space in Customs House just next door to Super Loco. The views and vibes here are pretty superb, and the menu features a mix of contemporary Italian-styled dishes. The food is pretty decent, but we suggest coming here for happy hour between around 5pm and 7:30pm when you can grab sundowner cocktails and glasses of Prosecco for great prices. Snag a seat on the patio if you can.
Caffe Fernet, 70 Collyer Quay, The Customs House #01-05, Singapore 049323. p. +65 9178 1105. Open Mon – Thurs 12pm – 12am, Fri – Sat 12pm – 2am, Sun 11am – 5pm
11. CÉ LA VI
Singapore's iconic rooftop bar sits on the 57th floor of Marina Bay Sands, which means the views here are absolutely spectacular. Come for their Sunset Sessions and sip on contemporary cocktails as you listen to groovy beats and soak up views of the sun setting over the city skyline. The drinks are fantastic, the modern Asian eats are vibrant, and there's always a great vibe going on, especially on weekends when the parties keep going until late.
CÉ LA VI, 1 Bayfront Avenue, Marina Bay Sands, SkyPark #57-01, Singapore 018971. p. +65 6508 2188. Restaurant Lunch: Mon – Fri: 12pm – 3pm, Sat – Sun: 12pm – 3:30pm, Dinner: Sun – Wed: 6pm – 11pm, Thurs – Sat: 6pm – 11:30pm. SkyBar & Club Lounge: Daily: 11am – late
12. The Dempsey Cookhouse & Bar
We're huge fans of The Dempsey Cookhouse & Bar for it's gorgeous interiors with tons of white colonial style furniture, lush greenery, and lots of natural light. Chef-owner Jean-Georges Vongerichten's cuisine is fresh and innovative with plenty of options for sharing like the burrata with lemon meyer jam and ciabatta and the pizza with black truffle and fontina cheese. We suggest grabbing a group of friends and heading here for an easy-going, yet chic drinking and dining experience.
The Dempsey Cookhouse & Bar, 17 & 18 Dempsey Road, Singapore 249676. p. 1 800 304 5588 (local calls only). Open Mon – Fri: 12pm – 2:30pm, Sat – Sun: 12pm – 3pm, Sun – Thurs: 6pm – 10pm, Fri, Sat & PH: 6pm – 11pm
13. Don Ho
When a group of party promoters open a tropical-themed 'social kitchen and bar', you can bet it's going to be a pretty happening spot. Brought to us by the Sunshine Nation crew, Don Ho sports loads of tropical greenery, comfy booths and round tables that encourage communal dining. Go for some of their shared plates like the Smoked Sweet Potato Hummus, Ash Cured Ocean Trout Pastrami or Suckling Pig, and be sure to try one of their tropical cocktails made with fresh ingredients like green apple, coconut syrup and homemade yuzu honey.
Don Ho, 1 Keong Saik Road, 089109, t. 6223 5001. Open Tues – Sat: 6pm – 12am
14. Employees Only
Just like its New York City flagship, this slick bar has a real speakeasy vibe and offers up cocktails with a kick and modern comfort food. Head here for an early dinner before it turns into a full-fledged bar replete with rowdy crowds, and sample dishes like the Hand Cut Steak Tartare or Skate Paprikás with Spaetzle & Crème Fraîche. After dinner you can sidle up to the bar and try signature concoctions like their famous version of the Manhattan or the La Mikana with Tanqueray 10 gin, grapefruit cordial and champagne.
Employee's Only, 112 Amoy Street, 069932, t. 6221 7357. Open Sun – Fri: 5pm – 1am, Sat: 5pm – 2am
15. Fat Prince 
If you dig middle eastern food, Fat Prince is a great spot to check out on the weekend.  We recommend start off with a drink at the bar before sitting down to dinner. Fat Prince serves up interesting mezzes, salads and kebabs in a great atmosphere.
Fat Prince 48 Peck Seah Street, 079317, t. 6221 3683. Open Mon – Fri: 8am – 12am, Sat: 11.30am – 12am
16. FOC
Tapas were invented to be eaten in a social setting, and FOC offers a fun and funky space that encourages group gatherings over shared plates and glasses of vino. Here Michelin-starred chef Nandu Jubany teamed up with Chef Jordi Noguera and mixologist Dario Knox to create handcrafted cocktails and a mix of classic and edgy Catalan dishes. Grab a seat at the bar and order a Cuzco Sour or fruit Sangria before digging into dishes like the Squid Ink Paella and Braised Beef Cheek Sliders.
FOC, 40 Hongkong Street, 059679, t. 6100 4040. Open Mon – Wed: 6pm – midnight, Thurs – Sat: 12pm – 12am
17. The Guild
Craft beers and comfort food with a twist are on offer at The Guild, a buzzy new spot in the Keong Saik hood. Step inside and you're greeted with a central circular bar surrounded by various dining areas. Brews include the 1842 Island IIPA, the Rye on Wood, and the intriguing Days of Being Wild made with cherries. Be sure to also dig into some of their divine dishes like the mac 'n' cheese with scallions and a house cured egg yolk.
The Guild, 55 Keong Saik Road #01-01, Singapore 089158. p. +65 6224 1262. Open Wed – Sun 6pm – 12am
18. Kilo Kitchen
Kilo recently made the move from Kampong Bugis to a new location in Duxton, and although we miss the old spot, the new place is just as welcoming and vibey. Upon walking in you can expect cool tunes playing in the background, plenty of places to sit including an outdoor area, and amiable servers ambling by with colourful cocktails and enticing culinary creations. Start with dinner and drinks here, then head over to Kilo Lounge down to for a late night dance sesh.
Kilo Kitchen, 97 Duxton Road, Singapore 089541. p. +65 6304 8064. Open Tues – Fri 5:30pm – 12am, Sat 6pm – 12am
19. Le Bon Funk
Club Street is always a happening spot for after-work drinks, and now Le Bon Funk is adds to the good times with their cosy little hangout that offers up a great selection of natural wines and communal style dishes like house-cured charcuterie and cheese platters. Not so familiar with natural wines? Not to worry because head sommelier Josée Yeomans can walk you through the selection and drop a few tips about the different flavour profiles.
Le Bon Funk, 29 Club Street, Singapore 069414. p. +65 6224 1490. Open Tues – Sat 5:30pm – 12am
20. Lucha Loco
The atmosphere at Lucha Loco, a Mexican taqueria and garden bar in Duxton Hill, is laid back and lively, which makes it a great place to pop into after work when you're looking for a few cold Coronas and some tasty Mexican street food style eats. If it's not too hot out, we like sitting on the patio in the back and chilling out al fresco style with some light bites like the Elotes, grilled corn with chipotle mayo and cotija cheese, or the De Barbacoa tacos with braised lamb, grilled tomato, mint, red onion and salsa.
Lucha Loco, 15 Duxton Hill, 089598, t. 6226 3938. Open Tues – Fri: 12pm – 3pm, Tues – Sat: 5pm – late
21. Merci Marcel
If you're a fan of French food like we are, then you can't go wrong with Merci Marcel. Brought to us by the same folks behind Ô Comptoir and Ô Batignolles, this bright, lively spot does awesome brunches with freshly baked French pastries, organic egg dishes, and colourful salads. Come evening they turn into a stylish wine bar with tasty treats to go with the vino like the duck rillettes with marinated pear and melted camembert cheese. Heaven!
Merci Marcel, 56 Eng Hoon Street #01-68, Singapore 160056. p. +65 6224 0113. Open Tues – Sat 8am – 11:30pm, Sun 8am – 10:30pm
22. Neon Pigeon
Neon Pigeon takes its inspiration from Japanese izakayas, which are social drinking spots that offer up tasty snacks to go along with cold beer. However, they put a modern twist on the izakaya experience with cool street art on the walls, funky beats and innovative bar bites like the Chicken Tsukune "Banh Mi" sandwich, the Duck Liver Okonomiyaki, and the Bacon, Egg and Cheese Rice. Their cocktails are just as intriguing with Asian accents like ginger beer, matcha syrup and yuzu.
Neon Pigeon, 1A Keong Saik Rd #01-03, 089109, t. 6222 3623. Open Mon – Sat: 6pm – 12am
23. OSO Ristorante
If you're craving Italian in a classy setting, OSO Ristorante is your spot. Located on the 27th floor of the Oasis Hotel Downtown, this beautiful venue offers tons of spaces to get your eat on including a roomy bar where you can grab drinks and appetizers, intimate nooks and comfy booths. The food is spot-on with classics like the angel hair pasta with crab and the veal milanese, as well as modern creations like the risotto with squid ink, sea urchin and marjoram.
OSO Ristorante, 100 Peck Seah Street, Oasis Hotel Downtown 27th floor, Singapore 079333. p. +65 6327 8378. Open daily 12pm – 2:30pm, 6pm – 12am
24. Papi's Tacos
You've got to love no frills spots where you can grab fresh eats and cold drinks without an ounce of pretension. Papi's Tacos is an laid-back neighbourhood taqueria with bright, cheerful decor, an open kitchen where the chefs whip up tasty tacos and burritos, and daily happy hours when you can grab margarita pitchers, buckets of Coronas, and platters of food for super cheap. We highly suggest the fish tacos with grilled white dory, crunchy cabbage, and smoked chipotle aioli.
Papi's Tacos, 39 Seah Street, Singapore 188395. p. +65 6258 0701. Open Mon – Fri 12pm – 2:30pm, 5pm – 11:30pm, Sat 5pm – 11:30pm
25. Super Loco
Brought to us by the same amigos behind Lucha Loco and Super Loco at Robertson Quay, the Super Loco at Customs House is a tad more sophisticated than its Rob Quay sister, but still loads of fun. Start with a few of their mezcal-based margaritas on the patio overlooking the water to get the evening started off right, then segue into elevated Mexican dishes like braised duck leg tostadas, soft shell crab tacos and their famous Oysters Kilpedro with chorizo, shallots and habanero-infused Worcestershire.
Super Loco, 70 Collyer Quay, Customs House #01-04, 238252, t. 6532 2090. Open Mon – Fri: 12pm – 12am, Sat: 5pm – 12pm
26. Olivia Restaurant & Lounge
Walk into this bright and airy Mediterranean eatery located in the hip new KēSa House complex, and be instantly taken by the rustic decor and bright pops of colour going on in the dining room — whitewashed brick walls, terracotta floor tiles, and a beautiful contrast of blonde wood furniture with deep blue booths and ceramic artwork on the walls. Start the night with pre-dinner cocktails at the cute bar at the back of the restaurant, then dive in for a lively-vibe dinner around the open kitchen. Our favourite orders of the night: mushroom and truffle croquettes ($9), ham, mozzarella, and truffle open omelette ($22) and the black rice with grilled calamari ($32) — hearty and satisfying.
Olivia Restaurant & Lounge, 55 Keong Saik Road #01-03, Singapore 089158. p. +65 6221 0522. Open Tues – Thurs 11:30am – 2pm, 6pm – 10pm, Fri – Sat 11:30am – 2pm, 6pm – late
27. Pasta Bar
Another KēSa House spot we love is Pasta Bar for its welcoming vibe and homey-modern interior — exposed brick walls shelved with wine, photo frames and hanging plants — and an 18-seater open-kitchen-bar-counter at the centre. On display are 11 hand-made pastas created and prepared daily by young executive chef Alessandro Giustetti. On the menu is a succinct selection of appetisers, mains and desserts, including a silky burrata cheese topped with pesto Genovese sauce, arrosticini appetiser, and lavish lamb skewers.
Pasta Bar, 55 Keong Saik Road #01-05, Singapore 089158. Open daily only for dinner at 6pm – 11pm.
28. Cicheti
Kampong Glam is an area we love and want to hang out in more, so Cicheti wins points with us for location. Plus, it's got a trendy vibe and fantastic pizza. We've already been here for both for lunch and dinner, and neither time did it disappoint. This is a great spot for lunch or a casual fun dinner with a group of friends. Be sure to make reservations in advance though!
52 Kandahar Street, Singapore 198901, p. +65 6292 5012, Hours: Mon – Fri: Noon to 3pm, 6:30pm – 11pm. Sat: 6:30pm – 11pm
If you're celebrating a special occasion, Akanoya makes for a fun and delicious evening. The specialty here is Japanese robatayaki style dining where you choose from a huge array of fresh seafood, meats, and veggies and then the chefs will grill up your selections over charcoal and serve them to you on a wooden paddle. Offerings include melt-in-your-mouth wagyu beef, pork belly, crab, octopus, and oyster mushrooms to name just a few. It's not particularly cheap, but the overall experience justifies the slightly high price tag.
Akanoya Robatayaki, 1 Tanglin Road, #01-01 Orchard Rendezvous Hotel, Singapore 247905. p. +65 6732 1866. Open daily 6pm – 2am
30. Amo
Set in a shophouse from the 1950s, Amo fuses the old and the new with vintage features like original mosaic floor tiles and exposed brick walls, as well as modern touches like comfy cushioned chairs and an open kitchen where you can watch the chefs pulling pizzas out of the wood-fired oven. They've also got a lovely courtyard outdoors with a huge wall mural painted by local artist Venetia Stevens. The pizzas are fresh, flavourful and the restaurant had a good vibe on the two Saturdays we've gone.
Amo, 33 Hongkong Street, 059672, t. 6723 7733. Open Mon – Fri: 12pm – 3pm, Mon – Sat: 6pm – 11pm
*images sourced from respective venues