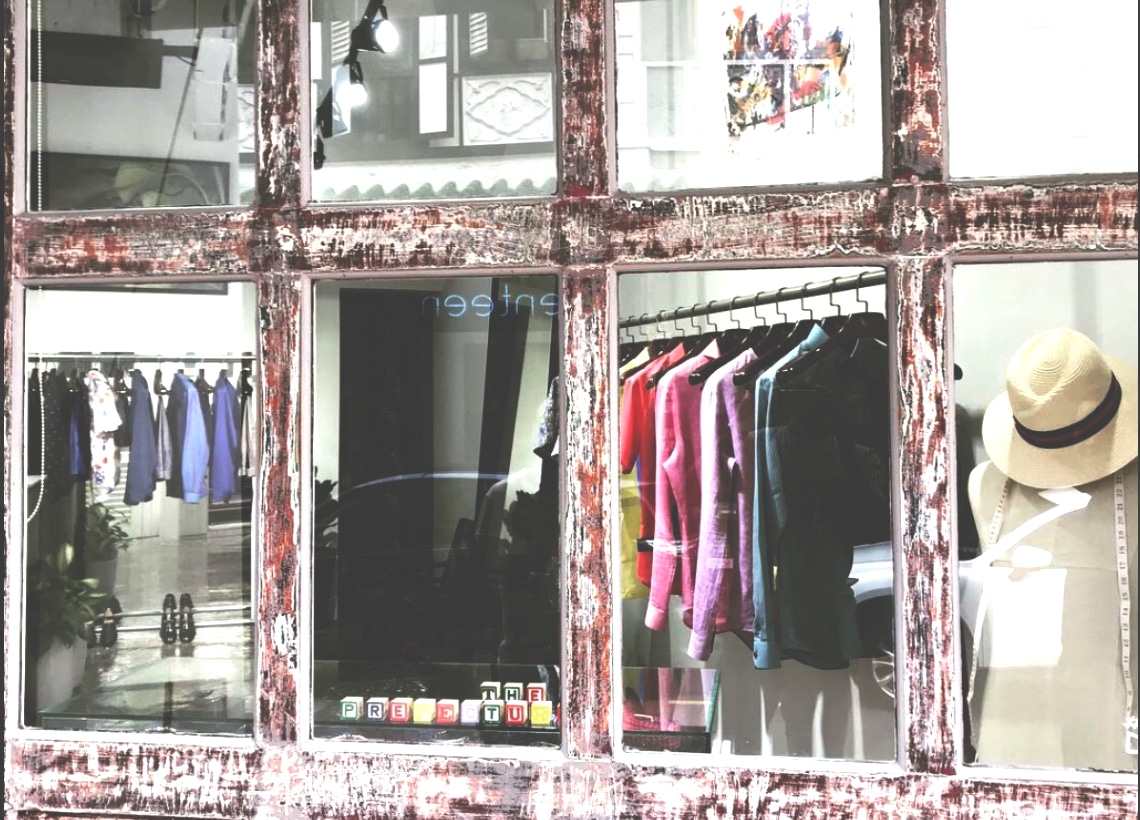 Mr. Q (aka Nqabeni Butholezwe Msimanga) is the creative force behind The Prefecture, a bespoke menswear label that helps clients 'practice the art of masculine elegance'. Born in Zimbabwe, Mr. Q emigrated to England when he was a teenager, and is now based in Singapore where he runs his burgeoning business, creating stylish and stunning tailor-made pieces for discerning gentlemen who want to look sharp and solidly put together. We had a chat with him to find out the story behind the man and the brand and his particular take on personal style.
UJ: Tell us about how you ended up in this profession.  Did you always want to work in fashion or be a Designer?
Mr. Q:
I realised at an early age that design was something I was fascinated by and as I got older I began to realise that my creativity was something I picked up as a genetic by-product from my mother. I always loved the arts, writing in particular, but having attended design school I specialised in typographic design at the
London College of Communication
, which later developed into textiles printing in an independent studio and finally into men's clothing.
UJ: What was the biggest challenge you've encountered along the way?
Mr. Q: Patience. When you are highly driven, obsessive about what you do, and have absurdly high expectations of yourself, it is very hard to be patient. You constantly feel as though you're running behind, which in itself cultivates a very hardened sense of self criticism. But learning to be patient is hugely rewarding and should be the basis of anything that you are committed to doing. Everything is a slow curve… everything
UJ: Where do you go to for inspiration on the daily? Social media? Fabric markets? Seeing what other people in your field are doing?
Mr. Q: I have a fascination with old people, and Singapore has no shortage of really interesting older folks with amazing stories. I tend to talk to the older gentlemen more than the women (aunties) because for some reason they seem predisposed to curiosity about who I am, where I come from and what I do here. That's honestly where a lot of my inspiration comes from, and from there I weave their stories into a combination of the fabric choices that I find in markets, with my own interpretation of what I hear from them, my own experiences and ultimately the environment that we live in: the tropics. I find this region infinitely inspiring visually, emotionally and spiritually.
UJ: What is your favourite piece in your current collection?
Mr. Q: Directly influenced by the tropical environment, I'd have to say it's two pieces: the Tropical Safari shirt and the Sentosa Beach Lounger shirt.
UJ: With sustainability at the forefront of a lot of conversations around consumerism, how is your brand approaching this topic?
Mr. Q:
I think the fact that everything is currently only made when it is ordered places
The Prefecture
at the epicentre of typifying ethical practice in an industry known for otherwise. Even as we grow, the emphasis will always be about keeping everything to extremely low quantities and more importantly through the use of materials that lend themselves to the ideals of ethical environmental practices: linen, bamboo, recycled cotton, jute and so on. These are materials that proliferate themselves widely and naturally without needing the intervention of industrial processes that are corrosive to the environment. Granted, it won't be easy at all to do this, but the idea alone is a seed planted with the goal of cultivating the right intentions and practices.
UJ: How do you grow or expand on your skills as a designer?
Mr. Q: Through constant and persistent inquisition. Curiosity is the best means through which to expand your sensibilities in any endeavour.
UJ: What is the ultimate compliment in your opinion?  What will make you feel like you've 'made it'?
Mr. Q:
Just the idea that my wife, daughter and my parents may look at
The Prefecture
one day when it has gained global respect and success and say "Well done doofus! Not too shabby at all"
Second to that, it'll be when Tom Ford calls me one day and says "Hey, I like what you're doing! Well done, keep it up… and please have lunch with me while you consider being creative director of my men's summer collections!"
UJ: Any advice for our readers in terms of how they should approach personal style or fashion?
Mr. Q: Comfort and pride in what you wear are the most stylish components of any sartorial ensemble. The best look that you can pull off is that which you put careful consideration into and then simply 'let go' immediately after that careful consideration. You should look like you're wearing second skin.
UJ: And finally, something we ask all our Urban Insiders, what are your favourite restaurants, bars and cafes here in Singapore?