Part of the allure of Jamaica is the variety of cuisine they offer. Across the island you'll find a smorgasbord of enticing local eats like spicy curried goat, smoky jerk chicken and saltfish and ackee, as well as international fare like Japanese, Indian, Thai and more. If you're not sure where to start your culinary adventure, you'll find some of the best restaurants in Kingston, Jamaica. Here there are multitudes of restaurants that cater to all tastes, from easy-going eateries to elegant dining spots. If you're planning a trip to Jamaica's capital city, these are the top restaurants in Kingston.
Best Restaurants in Kingston, Jamaica: Asian Cuisine
East Japanese has been satisfying sushi cravings in Kingston, Jamaica for over 23 years. They have four locations under their group. Majestic Sushi & Grill has the nicest ambiance and East Japanese at Dominica Drive stays open until 3am on Friday nights. Whichever location you choose though, you'll be treated to authentic Japanese eats like sushi rolls, sashimi, ramen and udon noodles. There are also plenty of veggie options for those who prefer a seafood and meat-free meal. All locations have free wi-fi.
Craving Cantonese fare? Make your way to Jade Garden where you can dine on dim sum as you gaze out at gorgeous views of the mountains. The menu has a great mix of traditional and modern and classic Cantonese dishes like peking duck, shrimp dumplings, bao buns, sweet and sour duck, and lobster with black bean sauce. They can cater to special requests and have private rooms that are perfect for family feasts, business lunches or birthday bashes.
China Express is another gem offering Cantonese cuisine in Kingston. Owned by Mr. and Mrs. Wong, this inviting eatery offers classic Hong Kong dishes like phoenix wings, BBQ spare ribs, and dragon fish deep fried whole and served with your choice of sauce. We love that the menu offers up 11 different soups and a variety of seafood and meat options. There are also plenty of vegetarian options. This is the perfect place for a casual lunch on the weekend or a leisurely dinner.
Thai food aficionados will definitely want to hit up Orchid Thai for flavorful favorites like pad thai, massaman curry, and chicken grapow. Whether you're craving meat, seafood or veggies, there are tons of options to choose from on the menu, all of which have the classic Thai balance of sweet, sour, spicy and salty flavors. They also have a great drinks list with signature cocktails and wine to complement the food. 
Best Restaurants in Kingston, Jamaica: Casual
Gloria's is an excellent local seafood establishment located right on Victoria Pier. Sit outside where you can enjoy the ocean breezes and watch the planes land at Kingston Airport as you listen to the sounds of reggae. The atmosphere is very pleasant, the seafood is great, and it's frequented by lots of locals, so you know it's good. We highly recommend trying the fresh fish, conch, lobster, and shrimp prepared with Jamaican flavors. 
Located at 12 Hope Road in Kingston, Kaya Pizza fuses traditional Italian and Jamaican flavors. Take for example their Jerk Chicken Sausage pizza with tomato sauce, mozzarella, and thick slices of spice-forward jerk chicken sausage. They also have more familiar classics like the margherita and pepperoni pizzas. For the coffee lovers, you'll be happy to know they also offer up great coffee from the Blue Mountains. Get your pizza fix here amongst a relaxing, cafe setting. Free wifi is available.
At TACBAR you can sample authentic Mexican and Caribbean street food in Kingston. Favorites from the menu include tacos, nachos, and quesadillas. We love that you can build your own tacos and choose from fillers like Jamaican braised oxtail, jerk chicken, and honey chipotle shrimp and wash them down with margaritas and specialty cocktails. We recommend coming here for drinks and light bites before or after a night out.
Located in the historic Devon House complex, La Pizzeria is a great place to enjoy classic and creative pizza options. There are options to suit all tastes including vegan and vegetarian pizzas, toppings for meat lovers like jerk pork and chicken, and even callaloo and ackee. The atmosphere is laid-back, making it a great place to swing by with a group of friends. They even have yard-long pizzas you can all share.
Also in the Devon House complex, the Devon House Bakery offers up delicious baked goods made in house in their huge brick oven. Here you'll find a mix of sweet and savory treats on display including hot, flaky patties. Fun fact—Jamaican patties are similar to empanadas, but they were brought over by the Chinese. Fillings here include callaloo, curried goat, lobster, chicken, beef, and seasonal options like ackee and saltfish.
Kamila McDonald is a certified personal trainer and sports nutritionist who drew on her own experience struggling with weight in the past to bring us this healthy, vegan restaurant that doesn't skimp on the flavor. Located at a lookout point, this is the perfect spot to fuel up on plant-based dishes that will leave you feeling energized and nourished. Dine in or get plant-based food delivered to your door. There are also meal plans available.
Best Restaurants in Kingston, Jamaica: Elegant
Buzo is a trendy, contemporary restaurant serving up fresh Northern Italian dishes. Start with the beef carpaccio sprinkled with parmesan and brightened up with verjuice and lemon olive oil, then move onto mains like handmade pastas, grilled chicken, and Mediterranean garlic prawns. There is also a great selection of cocktails and wines. There are also two other Buzo locations in the Caribbean—one in Trinidad and one in Barbados.
Broken Plate is an indoor and outdoor restaurant with a gorgeous open-air rooftop. The concept of Broken Plate came from wanting to break away from traditional culinary confines and allow the team to 'go wild' with innovative creations that feature a fusion of local Jamaican and international influences. The result is an eclectic menu with signature dishes like the oxtail mac n' cheese balls, ahi tuna wonton tacos, and curried goat sushi rolls. There are also a few vegan options and great wine and cocktails on the menu. If you are looking to have a nice evening amongst a great ambiance, Broken Plate is for you. It's important to note they have an elegant casual dress code.
Savor a fusion of Lebanese-Italian food in the heart of Kingston at Chez Maria. Relax al fresco on the rooftop where you'll have panoramic views of the mountains or in the indoor dining room tastefully decorated in European style. The menu has a range of options for all tastes including kebabs and keftas, pizzas, pastas and more. We recommend going at sunset with a group so you can try plenty of the options and take in the gorgeous views. Keep in mind there is a 'casual elegant' dress code.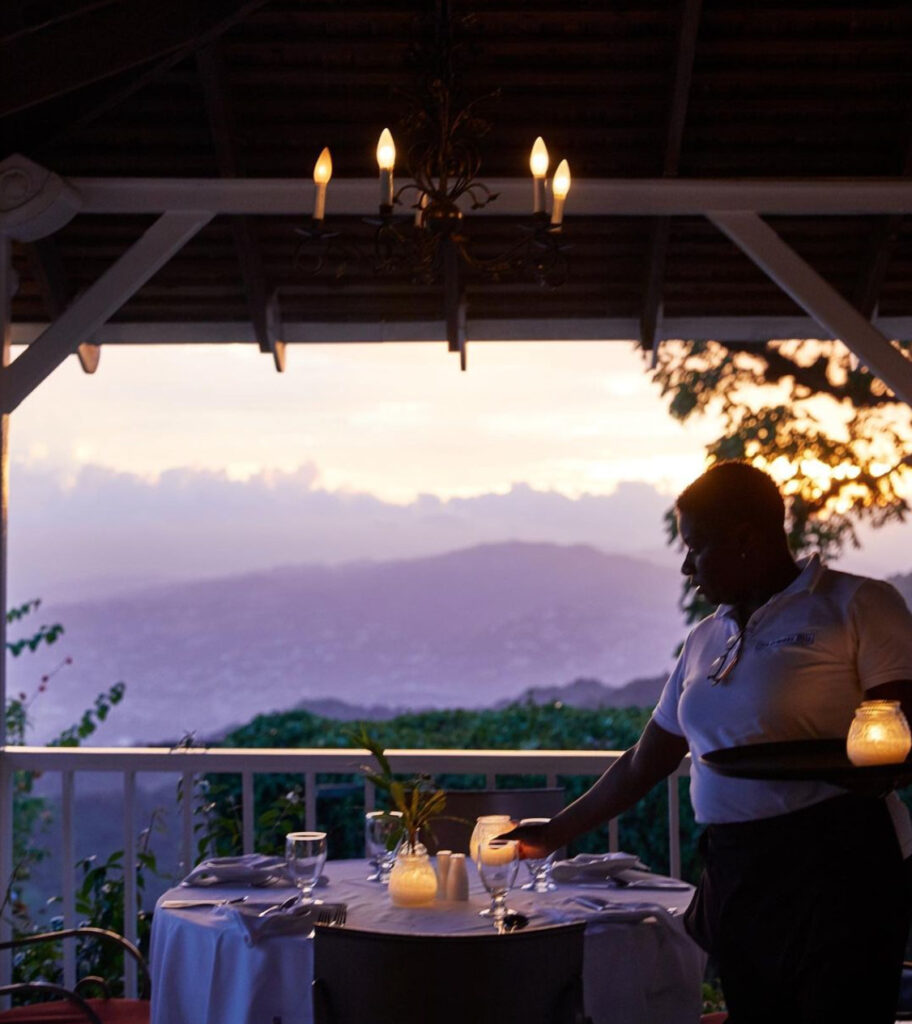 You can't beat the ambiance at Strawberry Hills, a beautiful mountain top restaurant owned by music producer Chris Blackwell. Part of the Strawberry Hill Hotel and Spa, the restaurant features Bob Marley platinum records on display inside and a wraparound verandah outside where you can soak up views of the Blue Mountains. It's slightly pricey, but worth a stop if you're after a romantic dinner or a lovely spot for a few drinks amid spectacular views.
If you're a wine and cheese enthusiast (and really, who isn't?) Uncorked is your spot. They have a huge list of cheese to choose from, as well as light bites like salads, flatbreads and skewers. Pair your plates with wines from around the world like a big, bold super Tuscan, crisp Pinot Gris or a fruity rose. If you're feeling like you need a little bit more to fill you up, they also have heartier dishes like gourmet burgers, pastas and steaks.
So there you have it, our roundup of the best restaurants in Kingston, Jamaica. You may also want to check out the best restaurants in Montego Bay, Jamaica.